David Cameron has gone cold on climate change
There's been no husky hugging or talk of green government lately. The prime minister needs to end his silence on this crucial issue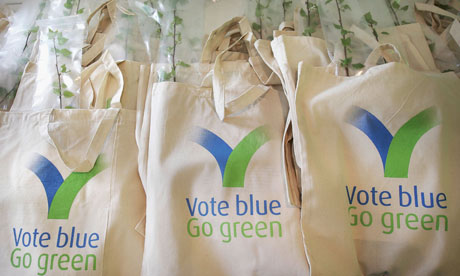 Back in 2006, WWF took David Cameron – then leader of the opposition – on a trip to the island of Svalbard, high in the Norwegian Arctic. He wanted to see for himself the impact climate change is already having on one part of the natural world, and to gain a deeper understanding of the causes of climate change. The Conservative leader also used the resulting publicity, including the now-famous
"husky hugging" photograph
, in his efforts to "detoxify" the party's brand.
At the time, it seemed to us that Cameron had a strong personal commitment to this agenda. In Oslo on his way back to the UK, he gave a speech in which he spoke passionately about what he had learned on the trip – and on his return, he made "vote blue, go green" a central part of the Conservatives' electoral platform.
Perhaps the most significant outcome from Cameron's environmental epiphany was his call for a "political consensus" on climate change, recognising that the issue transcends party politics. In that context, he played a central role in delivering the
Climate Change Act in 2008
: the support of the Conservatives was crucial in both improving the bill and securing its passage through parliament.
When the economic crisis hit in 2008, Cameron reassured us that he would not jettison his green policies in the looming economic downturn. "We are not going to drop the environmental agenda in an economic downturn," he said. "We will take forward our green agenda in a way that strengthens the economy – not 'green' or 'growth', but both." And the day after taking power in May 2010, he declared his ambition to lead the "greenest government ever", promising to be a "fourth minister" in the Department for Energy and Climate Change.
Since then, though, the prime minister has said very little publicly either on climate change or on wider environmental issues. The vacuum left by his silence has been filled by others in his party who seem determined to manipulate the debate around climate and energy policy for their own political ends. In 2008, George Osborne also talked of the need to "recognise the fierce urgency of now" in tackling climate change and pledged that a Conservative Treasury would "be in the lead of developing the low-carbon economy and financing a green recovery".
In office though, the chancellor has publicly promoted the fiction that green measures are a burden on our economy. His words, and those of others such as energy minister John Hayes, have undermined investor confidence and pushed up the cost of the capital UK businesses need to replace our obsolete, high-carbon energy infrastructure. Our country needs the jobs that these ill-advised words have jeopardised.
Next Monday is the fourth anniversary of the Climate Change Act becoming law – a fitting opportunity for David Cameron to restore his credibility on an issue fundamental both to his own political identity and to our nation's economy and security. What could he do to end the damaging headlines?
First, the prime minister needs to recommit publicly to the green agenda he championed while in opposition. He must ensure that his party, as well as his government, speaks with one voice, and reaffirm that there is no place for petty party politics on policies around climate change and energy.
Second, the PM needs to get policies back on track to deliver on the Climate Change Act, in line with his party's manifesto and the coalition agreement. Several big decisions are in his in-tray – decisions he must get right if he is to restore his credibility on this policy area. He must listen to the
Committee on Climate Change
, leading businesses and MPs – including many from his own party – who are calling for a quantified target in the forthcoming energy bill to ensure a carbon-free power sector by 2030. He must ensure that the wider package around the energy bill ensures sufficient financial support and investment certainty to deliver the UK's legally binding target for renewable energy by 2020. And he must accept the advice of the Committee on Climate Change – echoed by the parliamentary energy and climate change committee – formally to bring emissions from aviation and shipping within the scope of the Climate Change Act.
In short, David Cameron must reassure us all that he hasn't gone cold on climate change. Investors need to hear a single voice from the government on energy policy: the prime minister should take control and provide it.