UK should use shale gas to cut emissions, report says
It would be risky to assume gas prices will be low in the future, said the report from the Grantham Institute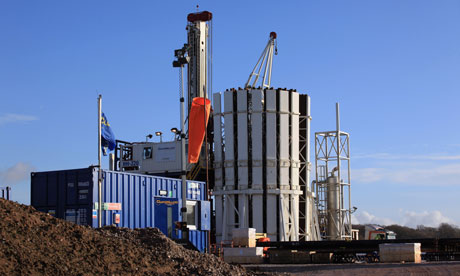 The UK should use natural
gas
, including from "fracking", to help cut carbon by replacing coal for power supplies over the next few years, a report has suggested.
But it would be risky to assume gas prices will be low in the coming years or that the UK has extensive supplies of shale gas which is extracted through the controversial process of fracking, the study said.
The chancellor, George Osborne, has provoked controversy
with moves that signalled a new "dash for gas"
including proposing tax relief for shale gas exploitation, and a gas generation strategy backing use of the fossil fuel for electricity.
Supporters of shale gas claim it could provide large supplies of gas which could reduce the price and provide
energy
security through domestic production.
But critics fear the process of fracturing of shale rock with high-pressure liquid to release the gas risks earthquakes and pollution of water supplies, and that gas wells could blight the countryside and affect house prices.
There are also concerns that a continuing reliance on gas will make it harder and more expensive to meet
climate change
goals to reduce greenhouse gas emissions.
The report's authors said: "Analysis reveals that substantial investment in gas on the assumption of low prices and large unconventional reserves is a risky option.
"A lower risk option would be a 'dash for smart gas', where natural gas is used judiciously in those areas where it offers the greatest value in decarbonising the power sector."
And they said: "In the short run, the UK's emissions can be reduced by replacing coal-fired power stations with those fuelled by natural gas, which emit less than half the carbon dioxide per kilowatt hour of coal-fired plants.
"But in the medium- to long-term, a heavy reliance on gas-fired power stations with unabated emissions would hinder the decarbonisation of the UK's power sector."
The government has raised the possibility of relaxing "carbon budgets" for reducing emissions in the 2020s so that more natural gas can be burned to make electricity.
But the report from the Grantham Institute warned that doing so could make it more expensive to cut carbon from the economy, because it will have to be done more quickly to meet legally binding goals to slash emissions by 80% by 2050.
The study also warned that low gas prices were not guaranteed in the future, with some estimates suggesting prices were more likely to rise than fall in the UK and Europe in the next 20 years.
If gas prices fall, for example as the result of an increase in supplies from unconventional sources such as shale, it could be good for the UK economy.
But relying too heavily on gas could turn out to be inconsistent with the government's aim to insulate the economy from energy cost rises by diversifying supply, the report said.