Boris Johnson's sticky pollution solution shown to be a £1.4m failure
Study finds mayor's trials to 'glue' pollution from vehicles to London's roads have not reduced fine particulate pollution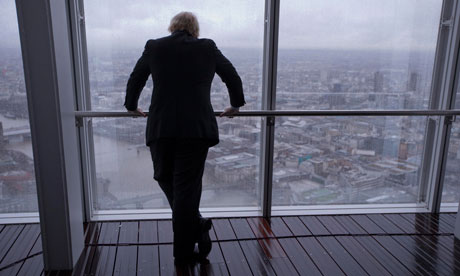 London
mayor,
Boris Johnson
, has spent £1.43m "gluing"
pollution
from vehicles to London's roads using a method that air-quality experts have found does not work.
In 2010, Transport for London started a trial using dust suppressants – calcium magnesium acetate (CMA) – on some of the city's dirtiest roads and industrial sites. Johnson
said at the time it was a
"wonderful contraption that tackles air quality head on" and that he expected it "would have an immediate impact on air quality in the most polluted areas of central London".
The process was extended into 2012 to tackle potential increases in pollution caused by the Olympic "Games lanes".
But
a study by scientists at King's College London
of the effectiveness of the glue at five major London roads over the last two years showed the method is ineffective at tackling PM10s – tiny particulates that have been shown to be harmful to human health – from car, van and lorry emissions. Most PM10 pollution is caused by traffic, in particular diesel fumes.
Benjamin Barratt, a lecturer in air quality science at King's, told the Guardian: "The bottom line is [the gluing method] is not going to work in many of the sites in London where the problem is purely down to traffic, but there are other locations in London where we have severe PM10 problems relating to industrial activity and it has been shown to have a role in those locations."
A member of the mayor's team
said in 2011
that the scheme had cost £905,000 in its first year, and although the total cumulative cost has not been publicly available subsequently, it has been running since then.
Green party London assembly member, Jenny Jones, said: "Boris Johnson's attempt at a quick fix of gluing pollution to London's polluted highways such as Marylebone Road has proved to be a failure and a waste of taxpayers' money."
Johnson today said London would establish an "ultra-low emission zone" to tackle air quality problems, but did not offer specific details as to what it would entail, other than outlining his "vision" that one day most or all cars in central London would be electric or hybrid vehicles.
"Creating the world's first big-city ultra-low emission zone has the potential to be a game-changing moment in the quality of life of our great capital," the mayor said. "My vision is a central zone where almost all the vehicles running during working hours are either zero- or low-emission. This would deliver incredible benefits in air quality and stimulate the delivery and mass use of low-emission technology."
He said all buses in central London would use hybrid engines by 2020, zero-emission taxis would be encouraged and that he was giving £20m for London boroughs to address the worst pollution blackspots.
But he announced that coaches and HGVs would be exempt from new standards to the
pollution charging scheme
that are due in 2015. Johnson said the move would save businesses £350m from not having to meet the more exacting standards, which will now only have to be met by buses.
Alan Andrews, a lawyer at ClientEarth, which brought a suit against the government in 2011 for its failure to clean up pollution in UK cities, said: "They are watering down one of the key policies [the next phase of the low emission zone] they had in place to meet compliance of nitrogen dioxide pollution [European standards] by 2015. And they're gutting it. They need to be pulling out all the stops if they're to convince the supreme court and the European commission (EC)."
Jenny Bates, Friends of the Earth London campaigner said: "2020 is far too late for the mayor's plan for an ultra-low emission zone in central London – EU legal limits must be met by 2015 for NO2, but London is still set to exceed levels required for this toxic gas until 2025.
"The mayor must take bold and urgent action now including measures to cut traffic levels, such as considering London-wide road-user charging and drastically increasing funding for cycling," she said. "[He] must abandon proposed new road river-crossings in east London, which would just add to the traffic and pollution problem."
"Air pollution is a serious health hazard affecting some of the most vulnerable in our society. The hardest [hit] are children and the elderly, as well as the most disadvantaged who tend to live near main roads where air pollution is worst."