Wind power capacity grew 20% globally in 2012, figures show
A relative slowdown in new wind turbine construction in China was offset by increases in the US, Germany, India and the UK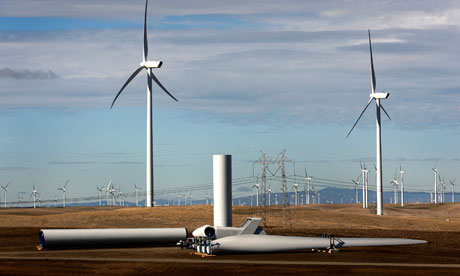 Wind power
expanded by almost 20% in 2012 around the world to reach a new peak of 282 gigawatts (GW) of total installed capacity, while
solar power
reached more than 100GW, having more than doubled in two years.
More than 45GW of new wind turbines arrived in 2012, with
China
and the US leading the way with 13GW each, while
Germany
, India and the UK were next with about 2GW apiece.
The UK now ranks sixth in the world for installed wind power, with 8.5GW. In Europe, only Germany (31GW) and
Spain (23GW)
have more. China leads the world with 77GW installed and the US is second with 60GW.
The UK is by far the world leader in offshore wind deployment, installing 0.85MW in 2012 to bring the total so far to 3GW. Denmark has a total of 0.9GW installed; Belgium is ranked third with 0.4GW.
"We are pleased to be part of this success story," said a spokeswoman for the UK department of
energy
and climate change. "Wind is an important part of our low-carbon energy future. We're also driving the technology forward with innovative 6MW offshore turbines currently being installed in the North Sea."
The GWEC said market consolidation led to the relative slowdown in China, while "a lapse in policy" caused a similar slowdown in India, but expected Asian dominance of global wind markets to continue.
The record year for installation in the US was driven by a rush to beat an anticipated end to tax credits: 8GW of the total 13GW were installed in the last quarter of 2012. However, the tax credit has since been extended, meaning a dramatic slowdown in the US in 2013 is less likely.
GWEC said the outlook for 2013 in Europe was uncertain due to the eurozone debt crisis, but that the EU's legal committments and 2020 targets for
renewable energy
ensured "a degree of stability".
There is very little wind power installed in Africa, but sub-Saharan Africa's first large commercial wind farm came on line in 2012, a 52MW project in Ethiopia. "This is just the beginning of the African market," said Sawyer. "With construction started on over 0.5GW in South Africa, we expect Africa to be a substantial new market, where clean, competitive energy generated with indigenous sources is a priority for economic development."
Solar power reached 100GW installed capacity in 2012 for the first time, according to
data from the European Photovoltaic Industry Association
(EPIA), up from 71GW in 2011 and just 40GW in 2010. The largest market by far is Europe, with Germany (32GW total) and Italy (16GW) the leaders. But while solar panel connections in Europe fell by 5GW in 2012 compared to the previous year, installations rose by 5GW in the rest of the world, notable China, the US, Japan and India.
"Even in tough economic times and despite growing regulatory uncertainty, we have nearly managed to repeat the record year of 2011," said EPIA president Winfried Hoffmann. But the EPIA noted that a continued oversupply of solar panels would most likely make 2013 a "difficult year" for photovoltaic companies.
In November, the International Energy Agency noted that
low-carbon energy was growing quickly
, driven largely by state subsidies. But the IEA highlighted that fossil fuels received six times more subsidy – $523bn in 2011, up 30% from 2010 – than low-carbon energy.